Elegant and Relaxing in Ixtapa, Mexico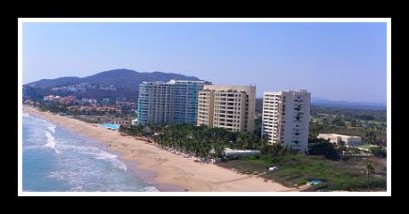 About Us

Married in Ixtapa, we returned to see a dream come true, and purchased two beach front condos in the elegant Bay View Grand Marina. Ixtapa is our haven and our refuge, with all the splendor of the Pacific Ocean lapping playfully at our door step!

Our Condos
In either of our condos, we offer the best in design and beauty for your own comfort and enjoyment, encouraging a relaxing and a pleasurable stay in this tropical paradise!

Awarded by Flipkey and Tripadvisor!
Our Staff
We have a property manager in Ixtapa, willing and able to help you with any questions or concerns you may have during your stay.

Reviews:

"We really enjoyed our stay in Ixtapa at the end of March, 2011 for two weeks, in this beautiful condo. Having the use of the bicycles was wonderful, as we found a great paved biking trail that took us all the way to Playa Linda (9.7 km. each way). The condo is clean, well-kept and very comfortable. The building and pool are beyond compare. The ability to call Canada free was an added bonus. Carleton and Valina were very accommodating and helpful. We loved Ixtapa and when we return, we will definitely consider this condo for our accommodation." - Kelowna BC
"Realmente un lugar extraordinario !, este departamento cuenta con todas la comodidades, realmente te desconectas del estres cotidiano y te lleva a vivir una experiencia unica, inigualable a traves de la maravillosa vista que posee, las instalaciones son de primera. Recomendamos ampliamente esta propiedad y garantizamos una maravillosa estancia y muy agradables vacaciones en este condo. Mi esposa y mis 2 hijos de 14 y 12 vivimos inolvidables momentos." - Mexico
"My wife and I have traveled to Ixtapa many times over the past 10 years and nothing compares to this complex and condo. Carleton and Valina were a pleasure to deal with and more than helpful. We also brought our young son (3yrs old) and the pool was simply amazing and safe for him! The kids play room was also great and provided a nice break from the mid day from the sun. The views from the condo are breathtaking and it is outfitted with everything you need to have an enjoyable and relaxing stay. We highly recommend renting this condo to anyone considering and will return once the weather turns cold up here in Canada!" - Toronto, ON